Our facility is nestled into the heart of Midtown Atlanta on Ponce de Leon across from Publix and the Majestic Diner. We are located on the campus of the Druid Hills Presbyterian Church at 1026 Ponce de Leon Ave.
We provide a warm, nurturing, and safe school environment with modern classrooms and a newly renovated playground. DHCDC is a great place for your child to make friends for a lifetime! We currently serve 125 children daily ranging in age from birth- 8 years old from families living in a variety of intern neighborhoods. Most of our students go on to attend Mary Lin Elementary, Springdale Park Elementary, and other area public and private schools. 
Our rooms are spacious, light-filled spaces and with state of art materials used to inspire learning daily. As you travel through center you will see examples of the children's work and highlights from each classroom's planned curriculum in hallway displays.
We have 11 classrooms and are excited to grow more into our current building with three additional classrooms and bathroom facilities.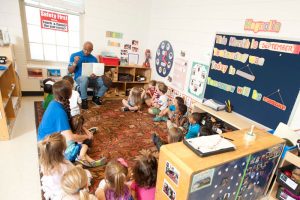 Our students enjoy daily outdoor playtime underneath a lush canopy of trees. The playground features hills to run and play on, a tricycle track, sensory tables, and an outdoor library!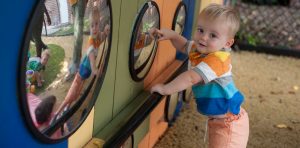 DHCDC has a strong commitment to safety and security. The exterior doors are always locked and specially coded for enrolled parents and staff to have access when needed. Onsite security ensures visitors can access our facility and provides additional supervision for the program. We have a security guard onsite throughout the day. Our security officer makes regular patrols of the campus, monitors the front entrance to ensure visitors can access our facility, and provides additional protection while children are outside Our primary method for keeping children safe is through our small group sizes, teacher: student ratio and a strong commitment to supervision and tracking.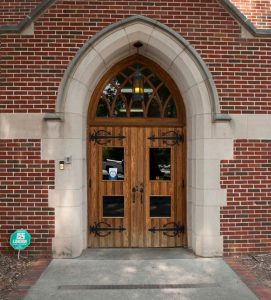 DHCDC has free and accessible parking directly in the front of our building (off of Ponce de Leon Avenue) and behind our campus which you can access from St. Charles Avenue and then walk around to the front of our building.